I love South Africa. She took me by surprise and swept me off my feet, and now I don't know how we can ever be apart. She is undoubtedly the most beautiful country on Earth, and the one I want to spend the rest of my life with.
I should state for the record that I'm prone to ludicrous hyperbole and grand sweeping statements claiming that such and such is the best so and so in the history of whatnot that I've ever witnessed/eaten/heard from a distance, only to then make exactly the same claim the next time I witness/eat/hear something of the same ilk. Bruce Springsteen/Radiohead/ Young Heart Attack; all of these have at some point been declared "undoubtedly the best gig I have ever been to", and we all know at least one of those just ain't true. But it's almost a month since I touched back down in Gatwick, and I still can't get South Africa out of my head.
I recently returned from a trip to the Western Cape, covering Cape Town and the nearby Winelands of Franschhoek and Stellenbosch. I'd never been to South Africa before, and in all honesty I wasn't sure what to expect; I've seen a reasonable portion of the world, done my fair share of natural wonders, and while I was physically aching for a holiday the destination was chosen largely for the abundance of sunshine than anything cultural (that and the refreshing lack of jetlag, the importance of which can't be underestimated when travelling with children). Always on the list of places to visit but never at the top, it's a country that often seems overshadowed by its chequered past and notoriously high crime rate, not helped in recent years by certain infamous cases and the cloud of corruption allegations that surrounds incumbent President Jacob Zuma. It's a long-established holiday destination for Brits, but one of the few which still seems to elicit surprising concern from the even the most hardened traveller: "Have you checked security where you're staying?".
None of that really bothers me. So long as the country isn't subject to a travel warning I think it's important not to let fear get in the way of discovering a place for yourself. It's all about discretion. Use your common sense, be aware of the risks but don't let them cloud your judgement; Colombia is a country of staggering natural beauty with some of the kindest people I've ever met, and yet most people associate it solely with drug trafficking. There are two sides to every story, and while South Africa has its dark underbelly (don't we all?), from the limited perspective of my two week visit to a tiny portion of the country I couldn't help but be won over time and time again by the striking landscape, generous people and gentle pace of life. Even better, the exchange rate is such that anyone coming from the UK can wine and dine like a royal at commoner's prices. Even a world class misery guts like Morrissey would struggle to complain. To begin with, at least, until he catches the whiff of kudu on the braai and has a meat induced meltdown.
I'm in no position to make an informed, intelligent assessment of the South Africa's 's socio-political situation – that's not what you come here for – but what I can tell you, having eaten vastly acrossthe Western Cape over the Christmas break, is that the breath-taking scenery on offer here is unlike anywhere else in the world, and the food…well, let's just say that any self-respecting glutton with the means to do so really ought to be emigrating to South Africa without further delay. Here are just a few recommendations from my time there. Read them, enjoy them, comment on them but really just go and discover it for yourself. You won't be disappointed.
Casually intoxicating and utterly enchanting, it's impossible not to fall hard for Cape Town on arrival from rainy London. Not so much a city as a collection of interconnected villages hugging the coastline, it's about as far removed from a conventional town model as you can get. Every corner you turn reveals another bay, another vineyard, another jaw dropping cliff. We stayed in the suburb of Constantia, but everywhere is easily accessible by car and the coastal routes are so glorious you'll be happy to drive.
Food
Basically Cape Town's version of Borough Market – an "old authentic fish factory in a working harbour" housing lots of artisan produce, craft stalls and an open plan dining area. Everything you'd expect is here – wraps, burgers, braai, sandwiches, sushi, oysters, craft beer, coffee, juices, cakes, ice cream, even an ostrich stall – with live music thrown in for good measure. Get there early to avoid crowds and try and sit outside in the sun if you can. Friday/Saturday/Sunday only.
Great for: low key lunch, quick bite, kids, grazing.
Best dish: 5 Oysters and fizz for around £8 was pretty agreeable.
Bay Harbour Market
31 Harbour Road
Hout Bay,
Cape Town
South Africa
Fridays:
5pm – 9pm
Saturdays and Sundays:
9:30am – 4pm
Phone: +27 83 275 5586
Email Bay Harbour Market
Follow Bay Harbour Market on Twitter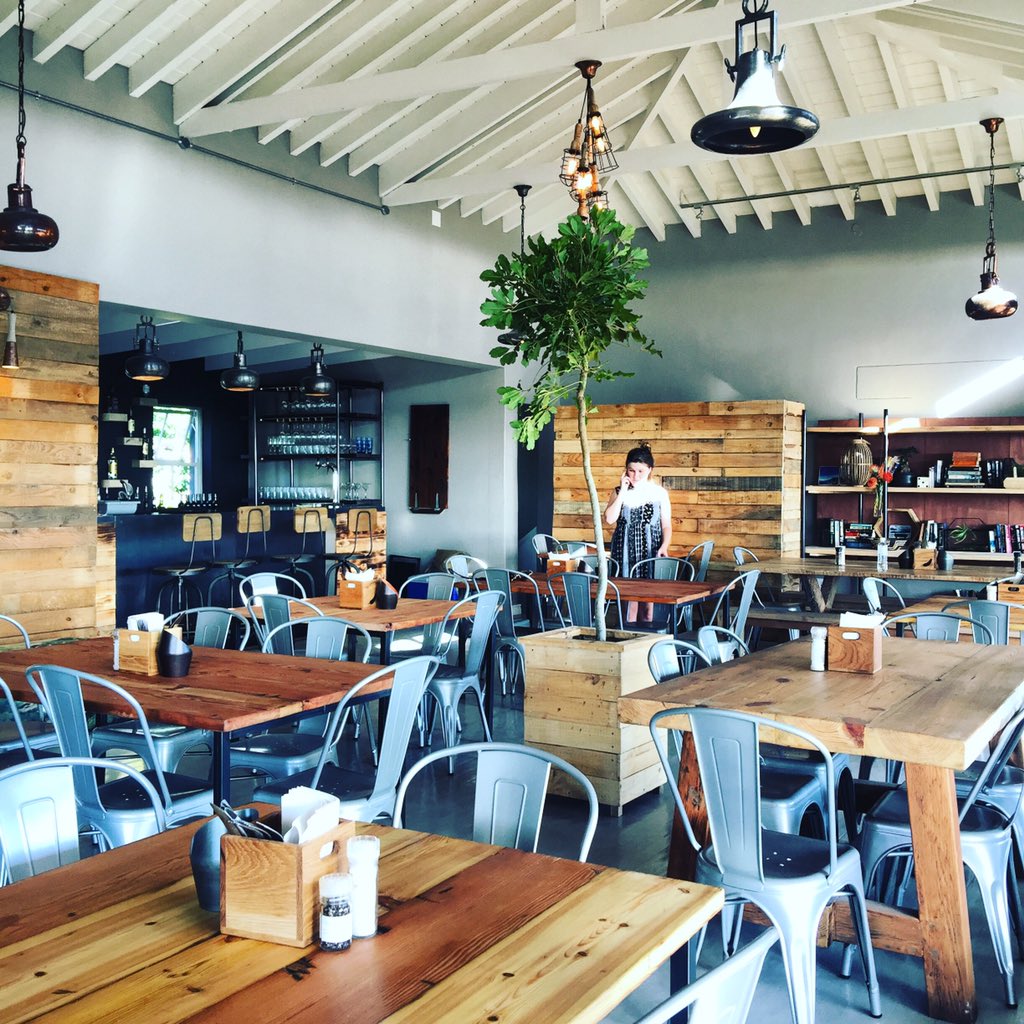 You'd have to be cold-blooded and/or insane to go swimming in the icy waters and fearsome currents of the nearby beach, but if you can get a table on the balcony this upmarket beach shack is perfectly located to watch the surfers show you how it's done. Pizzas, seafood, burgers; nothing revolutionary but it's all fresh and very tasty. The deli downstairs stocks all kind of local and organic produce as well as homemade ice creams. Warning: whatever you do, don't get stuck in the ice cream rush at the end of the day-  hoards of sunstroked tourists with no idea of where they are or what flavour they want. You'll be stuck there for days.
Great for: kids, lazy afternoons.
Best dish: An exceptional battered hake with some sort of fruity aioli. Nice crispy pizzas too.
The Hub Cafe
2 Watsonia on Main,
Scarborough,
Cape Town
Phone: +27 71 342 5210
Email Hub Cafe
Tuesday – Friday :
12:00am – 9:30pm (Last orders 8:30pm)
Saturday:
9:00am – 9:30pm (Last orders 8:30pm)
Sundays:
9:00am – 5:00pm (Last orders 3:30pm)
Everyone knows about British expat Luke Dale-Roberts's flagship, The Test Kitchen, and The Pot Luck Club is fast catching up with big brother in terms of international accolades. Total ineptitude on my part meant I failed to get into either of those two, despite three attempts, but managed to secure a lunchtime table with children for his latest venture, The Shortmarket Club, still a hot ticket in Cape Town. Even on a punishing hangover from a 40th birthday party the night before, this was pretty brilliant. An oyster trolley kicks off proceedings, while the main menu uses influences from all across the globe to put a wildly inventive spin on the best of South African produce: octopus balls, potato churros, springbok with candied beetroot. As a destination it couldn't be more hip, but the service and food are anything but a fad. Remarkable.
Great for: a splash.
Best dish: Too many to choose from, but All Things Spring, a raw honey based dessert with a pistachio sponge, concocted like a magic trick before your very eyes, lingers in the memory. And those potato churros were something else…
The Shortmarket Club
88 Shortmarket Street,
Cape Town,
South Africa
Monday – Saturday:
8am – 11am
12:30pm – 2:30pm
7pm – 11pm
Telephone: +27 021 447 28 74
Email The Shortmarket Club
Follow The Shortmarket Club on Twitter
We wound up here on our very first morning, straight off the plane and in desperate need of a shower. Brunch in a shopping mall isn't exactly my idea of fun, but this branch of an expanding franchise turned out to be surprisingly decent. The huge array of dishes on offer includes every brunch classic under the sun as well as various Mexican and Asian influenced numbers, fresh fish, French inspired mains and some wildly colourful salads. The fresh juices are great, the cakes irresistible and even the half portions are gargantuan. They have an excellent gelateria next door as well.
Great for: kids and picky eaters – there's so much on offer you can't fail to find something enticing.
Best Dish: Never thought I'd say this, but the halloumi there was unlike any I've ever tasted. Meaty and juicy, not a hint of squeaky rubber in sight. Salmon tartare also good.
Tasha's Constantia
Shop 55, Constantia Village,
Constantia Main Road and Spaanshemat River Road,
Constantia,
Cape Town
South Africa
Phone: +27 21 794 5449
Email Tasha's
Follow Tasha's on Twitter
Monday – Saturday:
7am – 9pm
Sunday and Public Holiday:
8am – 9pm
To be perfectly honest the food at this place doesn't really warrant a mention. It's a half-decent, overpriced Italian, exactly the sort of thing you would expect from a beachfront restaurant on the main strip of Camps Bay. But I felt I had to pay tribute to quite possibly the most endearingly hapless service I think I've ever encountered. Never before have I witnessed a waiter tell one diner he's making a bad choice, scold another for pouring their own wine, and then linger intrusively at the table for a good two minutes so that he can hear the punchline of a joke he's been eavesdropping on. I used to think Fawlty Towers was an exaggeration, but apparently not.
Great for: big groups, beachside dining.
Best dish: Crayfish spaghetti –  crayfish in the South African sense of the word, effectively a lobster with no claws.
Zenzero
Shop 2A,
The Promenade,
Victoria Road,
Camps Bay,
Cape Town 8005
South Africa
 Monday – Sunday:
11am – 11pm
Phone: +27 21 438 0007
Email Zenzero
Wine
Constantia Glen, Constantia
Pastoral or Constantia Glen?
If you only visit one vineyard in Cape Town, make it this one; living in London it's hard to believe places like this still exist. An inauspicious entrance on a curve of the main road to Camps Bay reveals itself to be the sort of lush green paradise normally associated with the pastoral genre. The rolling hills are all here, but the lovelorn shepherds have long since given up chasing the unobtainable and decided to focus on making wine instead. We arrived at the end of the day, but if you get here on time you can spend the day grazing on local cured meats and cheeses as you sample the large range of wines on offer. The sheer volume of glassware lined up before you as you begin the tasting is almost intimidating, but somehow it all slips down.
Constantia Glen
Constantia Main Rd,
Constantia,
Cape Town 7806,
South Africa
Monday – Sunday: 10am – 8pm
Phone: +27 21 795 6100
Follow Constantia Glen on Twitter
My brother and I stumbled across this unassuming little vineyard down the road from the much more commercial (and soulless) Groot Constantia Estate when we were supposed to be out grocery shopping on the first day while the girls were having a siesta. Like most Cape Town vineyards it's a little pricey compared to Franschoek and Stellenbosch but their sparkling wine is particularly good, as is the 2008 Cabernet Sauvignon. The terrace is a great spot for a quiet tasting away from the crowds.
High Constantia Wine Cellar
Groot Constantia Rd,
Constantia,
Cape Town 7848,
South Africa
Monday – Friday:
8am -5pm
Saturday:
10am-12:30pm
Phone: +27 21 794 7171
Follow High Constantia on Twitter
Other things to do:
Marvel at penguins at Boulders Beach.
See orangutans chewing on existence and other food left lying around before reaching the end of the world at the Cape of Good Hope (see cover image).
If you're really feeling adventurous you can put on a wetsuit and volunteer as shark bait. Cages haven't moved on much since Jaws but the exceptionally well run outfit at White Shark Diving Company soon puts you at ease. Led by marine biologists and a highly experienced crew, the focus is on conservation and social responsibility. Not that you'll be thinking about that when a Great White rams into your cage, mind.